We took our bulldog, Gus, to Dover Kennels after an unpleasant experience at another local kennel. From the very first time we dropped him off, the staff was extremely kind, and the always make us feel welcome, even though Gus can be a bit of a grump!
The staff is always more than accommodating, even when we have called with short notice, and Gus always comes home happy and clean.
We never give a second thought to leaving Gus at Dover Kennels, knowing he is safe and comfortable.
We highly recommend Dover Kennels to anyone who is looking for a home away from home for their pup!
Joe and Jocelyn Osborn
---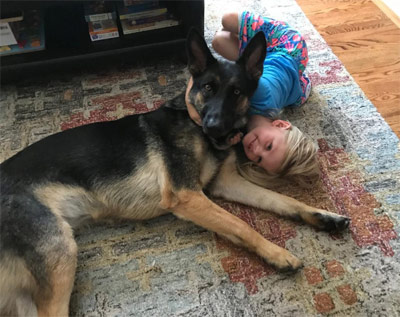 Luna loves spending time with her second home at Dover Kennels. They always accommodate Luna when we need them. Thank you for taking care of our other baby!!
Laura Stohr
---
My dogs stayed here for 8 days while we were out of town and they had a blast. They got a bath and got to play too. They were kept cool when it got really hot out. I would definitely recommend these guys if you need boarding at a great price, by people who genuinely care for animals.
Amy Schultz Larson
---
Bill Attridge with Brinkley,Sadie and Casey Dover Kennels is an excellent location for superior pet care. I have used Dover Kennels for over seven-years, and with three dogs, I am a frequent user of Jill's services. Her individualized attention is fantastic. There is easy drop off and pick up hours; clean accommodation's; reasonable rates; and, quality boarding. I highly recommend Dover Kennels to anyone who needs pet boarding for a day or a week. Outstanding!
Dr. William C. Attridge
---
Dover Kennel is my home away from home !!
Auntie Jill takes great care of me, making sure I have my daily runs, the right amount of food and water. If I'm lucky she'll mix hamburger and rice just to make sure I'm eating.
I carry in leaves on my feet into her very clean kennel and she never gets mad at me.
Auntie Jill gives me hugs especially if I'm missing my parents.
I recommend her to all of my friends.
Nakiska Jade Johnson
---
Jeff Goodman with BuddyWe have been boarding our 11 year old black lab at Dover Kennels in Andover, MN for 7 1/2 years. It is Buddy's home away from home. Jill, the owner is great with Buddy's high spirited personality. It is such a comfort to know that Buddy is being well taken care of when he can't be with us. Sometimes, Jill will bathe him for us when we haven't asked her to do that. And she also trims his nails. Many times his blanket that he sleeps with has been washed too.
He always comes home smelling fresh and he is always happy. It is such a treat to pick him up knowing he has been well cared for.
I recommend Dover Kennel in Andover, MN highly to anyone who has boarding needs for their dogs.
Thanks Jill.
Jeff and Cheryl Goodman
Andover, MN
---
LowRider just wanted to put in a few words about his stays at Dover Kennels. He loves the spacious kennels and how he gets free rein to go inside/outside. Jill is a very nice human and sometimes gives me treats and loves. I believe my mom likes Dover Kennels because Im alway well taken care of when she goes away on trips,so that makes her not worry about me.
Thank you Jill and Dover Kennels.
Holly Zahn & LowRider
---
We have an elderly, very vocal beagle named Daisy. We were going town almost every weekend and it was difficult to take Daisy with us. We made an appointment at Dover Kennels and this soon came to be the Doggie Hotel in Daisy's world. She gets excited whenever we pull up to the office! It was about 2 years ago that Daisy started coming to the "Hotel."
Since then, we've added two new additions to our family. Tyson and Coco; both are of the American Pit Bull/Staffordshire Mix.
We went to California over the holidays for an extended vacation with family. We had to figure out what to do with our canine family members. Coco was due to have pups at the end of January and Tyson I firmly believe, suffers from ADHD and Depression. I called Jill at Dover Kennels and we brought the trio in. When we arrived, I explained to Jill about Tyson and how I thought he would get depressed and not eat when we left him there; especially if he was kenneled alone. She listened to what I had to say, and suggested maybe we if would be helpful if she kenneled Coco and he together. That made me feel much better and it didn't "weigh" on my mind the entire time we were gone.
Our trip ended and it was off to Dover Kennels anxious to see how the rest of our family was. When we arrived, Jill told us we were so right on about Tyson and his depression. He would not eat. The first day or so he would not even come near Jill, she was lucky to get him to take a biscuit, even with Coco right there. Now – this is really going above and beyond and why I recommend Dover Kennels so highly….. Jill explained to us that she would get in the kennel with Coco and Tyson; trying to show Tyson that Coco was not afraid and she was there as a friend. Can you just imagine that? Tyson was stubborn but Jill's persistence finally paid off! Tyson accepted Jill and once he did boy did the doggie hugs start. He constantly wants hugs and he and Jill became fast friends. They can't wait to go back!!!!
Marge Weller
---
I was very concerned about leaving my Malemute at a kennel for the first time and verbalized that to Jill. She thoroughly explained to me and reassured me how Chena would be handled. After the first time of adjustment Chena does great as she often stays at Dover Kennels when I'm out of town. She walks in with her tail high and waggin' and the reports I get are that she does very well. The location, cleanliness, service has been exceptional for my 'doggie needs' and I believe this kennel comes highly recommended. I can leave her there and enjoy my times away knowing she is in very good hands.
Twyla Vander Weerdt
---
Jill,
Thanks for taking such good care of my dogs, Hunter and Gus. They have such a good time with you and I know they are getting the best care possible in my absence. I can't tell you what a relieve it is to know my dogs are safe and happy while I am gone. I have used other kennels in the past, but yours are the cleanest I have ever seen. I especially appreciate the times when I have picked them up and they have had a bath. Sometimes I think my dogs are unhappy to see me after they have spent a week with you. I know if Hunter and Gus could talk they would say how wonderful you and your services are. Thanks again for all of your service and care for the past four years.
Paula Hoglund
---
"I readily recommend Dover Kennel to clients and friends who ask. Jill Huston, the owner and manager, is someone I have known for years. She is a knowledgeable dog person with years of experience working at a veterinary clinic and she is very astute in reading dog body language and behavior. I know my own dogs are in capable hands when they stay with her."
Camille J. McArdle, DVM
---
Maureen Dollase with Ruby You might not think of using the term "professional" when referring to a dog kennel, but in the case of Jill at Dover Kennels professional is what you get.
She absolutely knows and cares about dogs. Being herself a breeder and trainer of Jack Russells certainly helps in this department. Also, like a pro, she runs a tight ship. Dover is the cleanest, best run place we've ever boarded our dogs, and the only kennel we've used for the last 8 years.
Whether we're leaving them for the weekend or an extended stay we know that Ruby and Doug will be safe in Jill's care and healthy and happy when we return.
Art and Maureen Dollase of Coon Rapid
---
MaggieIn looking for a place for my yellow lab Maggie to stay while out of town, I was lucky to find Dover Kennels here in Andover. I have looked at other kennels, and do not believe that the quality and care is as well done as it is at Dover. Maggie loves coming to this place when she needs to, and immediately be-friends the staff. My little girl and boy calls this place the "Doggie Hotel". I think one of the reasons for this is because not only are we leaving Maggie there overnight, but Jill and her staff are always very friendly, professional, and show a caring attitude for both my family and my dog. Maggie has stayed at Dover Kennels from one night up to almost three weeks in length many different times. I leave her knowing she is completely taken care of, and always happy to see she has been well taken care of when I pick her up. Dover Kennels is a caring and class act business, and I would not take Maggie anywhere else.
Brian Klepinger
---
After many years being disappointed by kenneling our dogs at "expensive dog hotels" we finally found a kennel that we, and our dogs absolutely love. Jill has taken care of our two dachshunds Ernie and Tilly, and our lab Scooby for two years now. The dogs love going to Dover Kennels, and actually run to the door when we drive up to drop them off! It's very comforting knowing they are happy, and receive great care and love while at Dover Kennels.
The staff at Dover Kennels are wonderful, professional, accommodating, and caring people, and you can't top the value you get from the prices at Dover Kennels.
We would recommend Dover Kennels to anyone who would actually like to enjoy their time away (without worrying) knowing their best friends are being well cared for.
Jessica Studer & Dan Marudas
---
We've been boarding our dogs at Dover Kennel for over 5 years and wouldn't go anywhere else. Jill is always happy to see us and our dogs. The facility is clean and the staff is accommodating and very friendly. We recommend Dover Kennels to our family and friends with dog boarding needs. Our dogs are always well cared for and happy at Dover Kennels.
Gary and Sue Carlson
---
We've been a customer of Dover Kennels for over 12 years. We'd tried several kennels prior to Dover but none ever matched the personal care offered by Dover. Through our dog Sadie's life from puppy to old and arthritic senior, Jill always made sure Sadie had the best of care. As Sadie got older, Jill always went out of her way to make her as comfortable as possible. Jill's background in veterinary science and her warm heart added the extra's you just can't find elsewhere. I think the most important comment on Dover Kennel came from Sadie herself who could hardly be contained whenever we showed up for a stay. She couldn't get into the kennel office fast enough and without obvious excitement. She said it all. Thanks for everything, Jill. You've earned a customer for life.
Dan and Susan Imhoff
Andover, MN